The application of 3D printing technology in Packaging industries has shifted the dynamic of packaging in many different aspects.
What exactly is 3D printing technology?
3D printing is the process that uses computer control to form layers and coating for materials. It is convenient in terms of package design. People are able to provide color coating, and layers in almost every material regardless of shape or geometry. Printing 3D Parts Company specializes in 3D printing technology by adding the application for the label, including full color graphics and text.
What kind of upheaval does the 3D printing technology bring to packaging designs and packaging industries as a whole?
Paul Pvaolich, a 3D printing expert, says, "3D printing parts is cost beneficial when there is no justification for building a tool to produce the parts and lead time is short," (Lingle, 2015). In this answer, Pvaolich is summing up benefits for using 3D printing technologies, as well as informing people that it is cost effective for business. Originally, when company creating rapid prototype of a concept container, it might takes months. Now, with the 3D printing technology advanced by Printing 3D Parts, Inc., they are capable of making rapid prototypes in weeks with full color graphics and text without any tooling cost.
Why is 3D printing not being utilized in packaging industry?
The current activity in 3D printing for packaging is very limited. "This will change due to increased investment in technology as a near-term tipping point that will bring many more companies into using 3D printing for packaging" (Lingle, 2015). Pvaolich also agreed with this and said that they believe more education is needed so decision makers can understand the added value.
Majority of people have interests using the 3D printing; however, almost 40% of people still do not know or not willing to use this technology in the next 2 years. Although the current advantage of 3D printing technology in packaging is not very clear, but there is a huge potential. It requires a lot of future exploration, and it is yet happening. Because more and more people realizing that once 3D printing is the fully utilize in packaging, it could generate enormous amount of potential in terms of revenue.
Willingness of companies to use 3D printing technologies
Results of poll:
61% plan on using 3D printing technologies within the next 1-2 years
32% do not know if they will be using 3D printing technologies in the next 1-2 years
7% do not plan on using 3D printing technologies in the next 1-2 years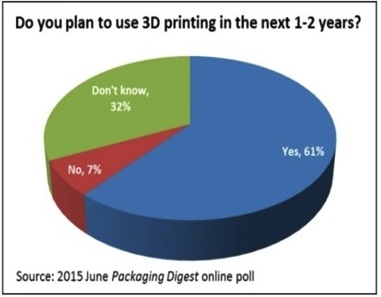 It was confirmed in this poll that the vast majority of companies fully intend to begin using 3D printing on their packages in the near future.
References
Lingle, R. (2015, July 20). 3D printing's future in packaging is promising. Retrieved November 30, 2015, from
http://www.packagingdigest.com/digital-printing/3d-printings-future-in-packaging-is-promising1507/page/0/1
Lingle, R. (2015, October 19). 3D-printing expert shares packaging insights. Retrieved November 30, 2015, from
http://www.packagingdigest.com/digital-printing/3d-printing-expert-shares-packaging-insights
Image Source: http://internationalprint.w1.geaux.ws/wp-content/uploads/2015/11/3d-custom-printed-packaging.jpg